Alerta Encore Bariatric Low Profiling Hospital Bed Beech
OV6514
Regular price
£2,475.71
/
---
Alerta Encore Bariatric Low Profiling Hospital Bed Beech
For bariatric patients with complex needs, a low bed must be used that offers dynamic adjustment capability and safety, but these beds can often come at a prohibitively high cost. The Alerta Encore Bariatric Low Profiling Hospital Bed is designed with dynamic functionality to assist with providing quality care to bariatric patients, and is a cost-effective electric profiling option for hospitals, care homes and residential care environments.
Please note: The price of this bed includes kerbside delivery only. For a full delivery, installation and demonstration service by a team of qualified engineers, select the "Profiling Bed Delivery and Installation Service" using the tick box above.
Who Can Use the Alerta Encore Bariatric Profiling Bed?
The Alerta Encore Bariatric Profiling Bed offers an increased width and weight capacity, making it a highly functional care option for bariatric patients in all sorts of medical environments including hospitals, care homes and residential care scenarios. With four section profiling including knee brake adjustment, an electrically adjustable backrest, and click stop lower leg raising elevation, this bed provides all the adjustments necessary for nearly all care environments. The low profile is also an ideal addition for anyone at risk of bed falls minimising injury risk.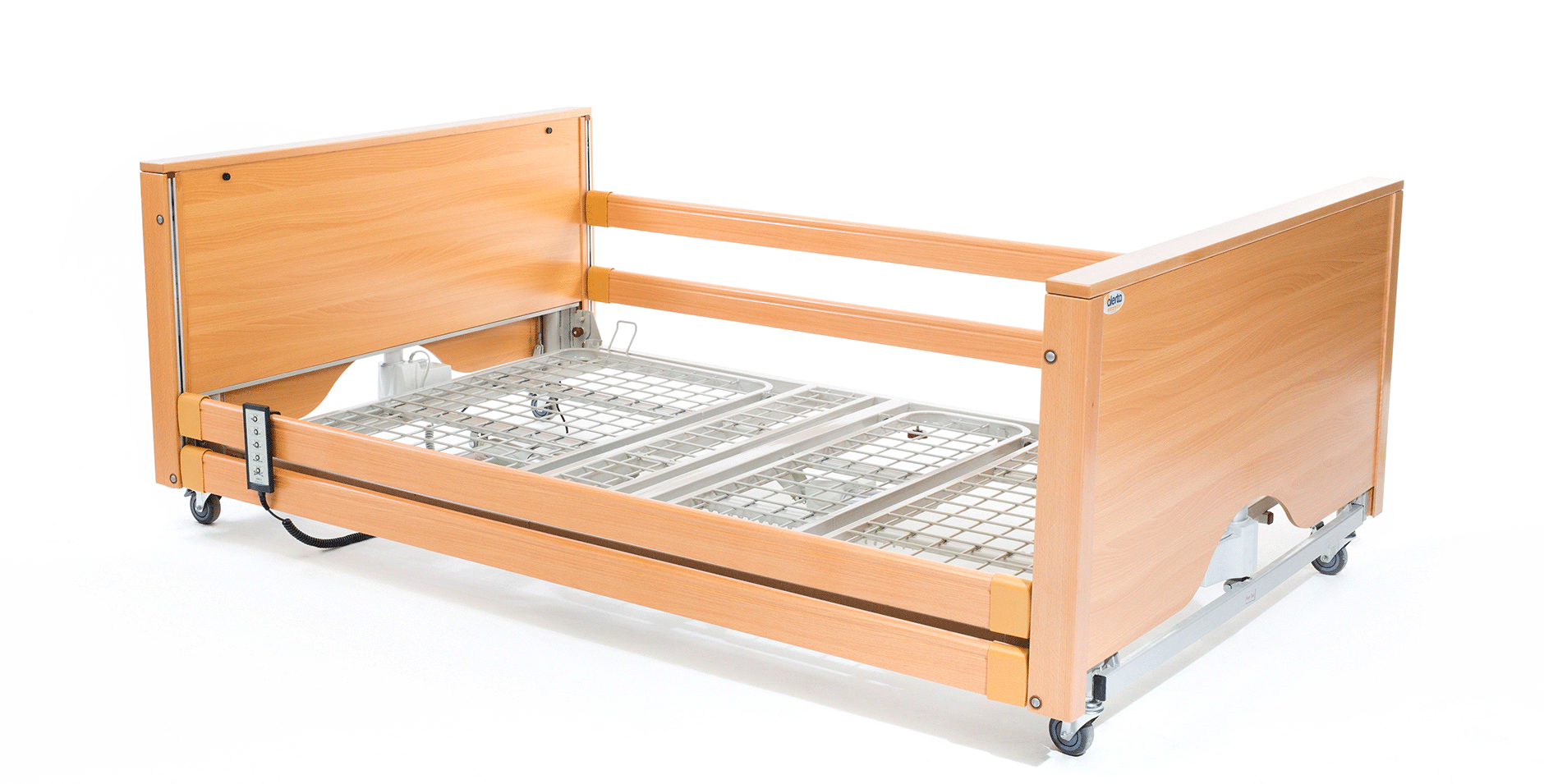 How Does This Bed Cater to Bariatric Patients?
This bed takes the excellent functionality of the Alerta Encore range of beds and adapts it for use with bariatric patients. The Encore Bariatric Bed features a wider 120cm platform width, allowing it to support the majority of bariatric pressure relief mattresses. It's also upgraded with a robust 250kg maximum safe working loadÊÐ making it ideal for larger patients.
Why Choose a Bariatric Low Profiling Bed?
Many bariatric patients requiring the use of profiling hospital beds are at risk of falls from bed, so everything must be done in order to prevent injury. The low height of this bed is ideal for patients at risk of bed falls, minimising their chance of injury if a fall does occur.
Which Mattress is Recommended for Use with This Bed?
This bed is suitable for use with most bariatric pressure relief mattress with a width of roughly 1200mm that feature four section profiling support. For bariatric patients up to a high risk of pressure sores, we recommend the Alerta Sensaflex 3000 Bariatric Memory Foam Pressure Relief Mattress, which can be added to your order using the tick box near the top of the page.
Should I Use a Crash Mattress?
While this bed is equipped with side rails, it is also recommended that a crash mattress be paired with the bed to provide comprehensive fall safety provisions. We recommend using a crash mattress like the Sidhil Essential Crash Mattress, which can be added to your order using the tick box near the top of the page.
What If I Require an Alternating Air Mattress?
For patients at very high risk of pressure sore development, we recommend this bed be used with an alternating air mattress like the Alerta Bariatric Alternating Pressure Relief Mattress. This alternating system will provide the best possible pressure ulcer prevention for bariatric patients.
Is This Bed Height Adjustable?
Yes, with the touch of a button on the included 10 function handset, this bed can be adjusted in height to provide a safe working height for carers, as well as an ideal low height for patient transfers and fall safety. The height can be adjusted from 20cm to 80cm off the ground, providing a height range that will suit most needs.
Is The Handset Lockable?
Yes, the included 10 function handset features a lock-out capability. This is ideal when there is a risk of unwanted patient tampering, ensuring that care givers can provide the best and most consistent positioning to their patient.
Which Wood Finishes Are Available?
This bed is available in two stylish wood finishes: Beech and Walnut. Providing a choice between light and dark wood grain, these two wood finishes allow the Alerta Encore Low Bariatric Hospital Bed to fit seamlessly into home environments without disrupting the look of the room or decor.
Is This Bed Supplied with Side Rails?
Yes, this bed is supplied with wooden side rails to protect the patient from falls from bed. These side rails can be lowered, allowing for easy side transfers of the patient.
Can This Bed Place the Patient in the Trendelenburg Position?
Yes, this bed can place the patient in the Trendelenburg position. This position places the patient's feet higher than the head, which can be advantageous during certain medical procedures.
Will This Bed Stabilise the Mattress?
Yes, unlike most other profiling beds, the Alerta Encore Bariatric includes four mattress grips. These grips can be seen at the corners of the mattress platform, and will keep the mattress stable during profiling to ensure slipping or displacement is prevented.
Is This Bed Easy to Assemble?
This bed is designed to be as easy to assemble and disassemble as possible, and both can be done without the use of tools. This not only makes setup simple, but also allows the bed to be efficiently stored and transported with minimal hassle.
How Can This Bed Be Transported?
With such a large piece of equipment, transport can be difficult if not accounted for in the product design. This bed features a transport mode that locks into position, providing a stable and easily manoeuvrable shape that can be stored and transported with ease.
Is This Bed Supplied with a Warranty?
Yes, this profiling bed is supplied with a three year warranty on the bed frame and a two year warranty on the motors and electrics. This allows you to use the Encore Bariatric Hospital Bed with peace of mind that top functionality is assured.
Key Features and Benefits
Low bariatric profiling bed to balance functionality, ease of use and cost-efficacy
Ideal for care homes, hospitals and residential care environments
Features an increased weight capacity and width to suit bariatric patients
Low profile is ideal for reducing the risk of injury from bed falls
Available in both Beech and Walnut finishes to suit your room
Four-section profiling capability allows a range of adjustments
Supplied with a 10 function lockable handset with intuitive controls
Knee brake adjustment allows legs to be elevated with ease
Click stock lower leg raising elevation ensures the proper angle of elevation can be reached
Electrically adjustable backrest to provide a comfortable seated position for the patient
Height adjustment between 20cm and 80cm for an ideal working and transfer height
Supplied with four robust 2" castors equipped with brakes for safety
Four section mattress support makes the bed compatible with most pressure care mattresses
Mattress grips keep the mattress in place and prevent slipping during profiling
Tool-free assembly and dismantling for easy setup and storage
Full setup and installation service available via the tick box near the top of the page
Transports system allows easy and safe movement of the bed
Technical Specifications
Maximum safe working load: 250kg
Height adjustment range: 20 - 80cm
Outer dimensions: 132 x 212.2cm