Acu-Life Neti Rinse Nasal Irrigation Kit
OV331
Regular price
£24.82
/
---
Acu-Life Neti Rinse Nasal Irrigation Kit
If you often suffer from a blocked nose and sinuses, you've probably tried all sorts of methods and medications to get relief, but you may have missed the most effective method: nasal irrigation. The Acu-Life Neti Rinse Nasal Irrigation Kit provides an easy and effective nasal irrigation method, allowing you to flush out your sinuses for instantly clear nasal passages, without the mess of neti pots. Supplied with everything you need including ready-to-use saline solution packets, this kit makes unblocking your nose easier than ever!
This Neti Rinse Nasal Irrigation Kit is available with either 10 or 50 pre-mixed sachets of saline solution. Please select your desired version using the drop-down menu above.
What's Included With My Nasal Rinse Kit?
The Neti Rinse Nasal Irrigation Kit is supplied complete with everything you need for immediate sinus relief, including:
1 x Neti Rinse Nasal Irrigation Syringe
1 x Antibacterial tip
50 or 10 x 2.5g saline solution packets (99.99% sodium chloride)
Key Features
Easy-to-use nasal irrigation kit
Supplied with saline solution sachets for immediate use
Ideal for unblocking clogged noses sinuses in seconds
Easier alternative to neti pots with less mess
Antibacterial tip provides clean and safe application
Tip's fluted internal walls create a gentle swirling rinse
Syringe system provides full control over water pressure
Provides a large volume, low pressure rinse for maximum comfort
All-natural way to enjoy instant relief from clogged sinuses
Easier Alternative to Neti Pots
Neti pots have been gaining popularity as a safe and effective way to naturally relieve congestion and sinus pain with nasal rinsing, but they can be messy, and leave the user with little control over water pressure. The Neti Rinse was developed to make it easier for people to enjoy the benefits of nasal irrigation, without the mess and lack of control that neti pots can cause. With the Neti Rinse Nasal Irrigation Kit, users have full control over their nasal irrigation, and can slow down or stop the rinse whenever needed.
What is Nasal Irrigation?
Nasal irrigation, also known as nasal douching or nasal rinsing, is a safe and effective method of clearing stuffy noses and blocked sinuses using salt water to rinse out the nasal passages. Developed centuries ago in India, this method has been refined over the last decade as it's gained popularity, and the new controlled syringe method has been developed as an easier alternative to the traditional neti pot design. It can be done in seconds in the comfort of your own home, and is now loved by countless sufferers of chronic nasal congestion as an alternative to anti-congestion medication.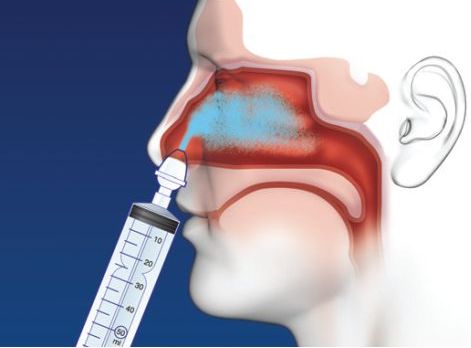 This graphic shows how the Neti-Rinse can help rinse out your sinuses for immediate congestion relief
Benefits of Nasal Irrigation
Sinus irrigation can provide relief from the all sorts of sinus related conditions, including simply having a blocked nose at night that makes it difficult to sleep. Nasal douching can be your saviour if you suffer from:
Chronic sinus infections
Acute bacterial sinus infection
Viral upper respiratory infections
General nasal congestion
Post-nasal drip
Allergic rhinitis
Irritant-based congestion (such as hay fever)
Blocked and stuffy noses
Excess mucus when you have a cold
Dry nasal passages
How to Clear a Blocked Nose with Neti Rinse
Nasal irrigation is safe when done properly, and as long as you clean your Neti Rinse system and use clean water, you'll avoid the possible negative side effects of nasal irrigation. When using the Neti Rinse to clear your sinuses, always:
Used distilled, sterile or cooled, recently boiled water to prevent infection
Wash and dry your Neti Rinse Nasal Irrigation Syringe in warm water between uses
Use the included saline solution, or a carefully mixed nasal rinse recipe