DermaTherapy Duvet Cover
OV365
Regular price
£152.34
/
---
DermaTherapy Duvet Cover
Derma Therapy bedding has been developed especially for people with conditions like eczema, psoriasis and atopic dermatitis who suffer from dry and delicate skin along with individuals suffering from night sweats, menopausal hot flushes and pressure sores.
Derma Therapy bedding has a durable antimicrobial permanently bonded into the fabric to eliminate odours and maintain fabric freshness. It even has a soil release finish to help remove oils, creams, blood and other stains away from the skin.
What Makes Derma Therapy Bedding So Special? 
DermaTherapy's unrivalled fibre technology dissipates heat and moisture away from the skin, evenly distributing it over the entire sheet leaving a cleaner, drier and smoother surface, in turn leading to a restful night's sleep.
DermaTherapy's special fibre structure also prevents loose fibres protruding from the surface and irritating delicate and broken skin. A sleep study of patients with mild atopic dermatitis and eczema, demonstrated significant improvements in the severity of the condition, level of itching and perceived quality of life after only eight weeks of using the bedding.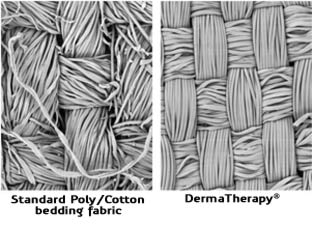 The fabric's durable, antimicrobial protection helps maintain freshness whilst the special 'soil release' finish helps remove oils, creams blood and other stains.
A second sleep study undertaken at Wake Forest university School of Medicine in the USA has proven that after eight weeks of sleeping on DermaTherapy sheets, participants suffering from flushes and night sweats had regained normal sleep patterns with the amount of uninterrupted sleep, ability to keep cool, ability to keep dry and general comfort improving after just two weeks.
DermaTherapy material is considerably smoother, lighter and thinner than cotton. This special bedding is as soft as the highest percentile Egyptian cotton sheets and feels equally luxurious to touch. With an average pore size of just 8.5 microns it has the added advantage of helping to protect against dust mites.
Suitable for use in hospitals, DermaTherapy can withstand washing temperatures of up to 90oC but can be laundered just as efficiently at 30oC, helping the consumer to do their bit for the environment and reduce CO2 emissions. Fabric Conditioners are also unnecessary, thus avoiding another potential allergen source.