SKM Easystore Standard Wheelchair Therapy Table
OV3106
Regular price
£6,943.58
/
---
SKM Easystore Standard Wheelchair Therapy Table
SKM 100 Easystore Standard Wheelchair Therapy Table
Tables that provide accessibility to wheelchair users can be large and cumbersome, as different wheelchairs may feature completely different working height requirements. TheÊSKM 100 Easystore Standard Wheelchair Therapy TableÊis designed to cater to all of these needs, while remaining compact and easy to store in environments with limited space. It does this by folding to a completely vertical position in seconds, allowing it to be stored away in narrow spaces with ease.
This table is available in three different lengths to suit different needs and users. Choose your desired length from the drop-down menu at the top of the page.
Simple Electronic Adjustment
Since different wheelchairs require different working heights, this table is height adjustable from 67cm to 100cm. It can also tilt to a fully vertical position, allowing for easy storage in most environments.
These adjustments are both carried out with the push of a button, making electronic control of this table a breeze. Battery back-up is also included, allowing for use away from the mains power supply and eliminating the need for dangerous trailing cables.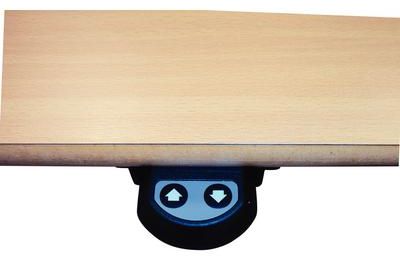 Full Wheelchair Access
For many wheelchair users, the traditional straight design of a table makes getting up close and personal with your work a challenge. This table features a front cut-out, measuring 50cm by 15cm, providing plenty of space for those sitting in a wheelchair to move closer to the table surface. This cut-out facilitates close control, and allows for more focus on activities.
Compact Storage
Compared to other wheelchair-accessible tables, the Easystore Therapy Table is exceedingly easy to store, as it can be tilted completely vertically. Whether your aim is to store this table in a classroom, clinic or home environment, you won't find another table with this level of function and convenience. For added safety, the table locks into place in flat and vertical positions, meaning it won't slip or fall when you don't want it to.
Safe and Hygienic
This table is suitable for use during all types of activities, and so it is able to stand up to nearly any challenge normal use will provide. Its attractive beech tabletop is complete with a laminate finish, making it highly durable and easy to clean. To ensure the table is safe without any unwanted rolling, it is fitted with four swivelling, locking castors.
Table Dimensions
This table is available in three different lengths to suit different user needs. The three sizes are as follows:
Dimensions (LxDxH):

165 x 90 x 67 - 100cm or
200 x 90 x 67 - 100cm or
240 x 90 x 67 - 100cm
Please note: As this product is made to order, it is non-returnable unless damaged and may be subject to an additional delivery time. For more information, contact our Customer Support Team at 020 7720 2266.