Trabasack Laptray Bag
OV3110
Regular price
£74.51
/
---
Trabasack Laptray Bag
Trabasack Curve - The Original Laptray and Bag
The Trabasack Curve is a bag with a firm flat surface on one side and a removable bean bag cushion on the other. The Trabasack Curve is ergonomically designed to hug the body contours to create a snug fit. It is slim and lightweight with easy ring pull zips and grab handles.
The handles and choice of strap options means that you can take this lap tray anywhere. Use the side straps to clip it onto a chair or buggy to create a travel play tray. The soft padded rim and choice of coloured trims give the Trabasack a distinctive and modern appearance whilst retaining essential safety features.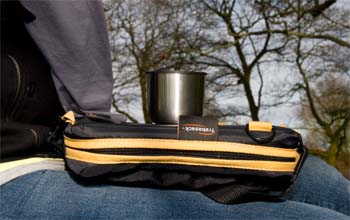 Why choose the Trabasack Curve?
With a Trabasack you can eat, play or work anywhere. Enjoy a meal without needing to get your legs under a dining table. Why not use it as a bed tray table for your book or laptop? You can keep your mobile phone, cup, craftwork or mp3 within it so that everything is always at hand.
The Trabasack is specifically desgined specifically to meet the needs of adults in homecare, rehab and residential care homes aswell as children and adults with special edicational needs.
The Trabasack attaches to the front of any chair and stows at the back when not in use. Rucksack and shoulder straps are available for your Trabasack.
Features and Benefits of the Trabasack Curve
Ideal for:
Food and drinks

A portable work station

A firm level surface for switches and toys

Clips to the front of a wheelchair/buggy

Bag section holds essential belongings
Available in two coverings
Black leather effect PVC - easy to wipe

Black 'Connect' surface - a super soft velcro tray top. Attach remote controls or other devices securely. 

Connect surface is available in Orange, Blue or Pink trim.
Strap Options
Long Straps (Included) - Use the long shoulder/ rucksack straps to attach the Trabasack to wheelchairs/ buggies that do not have a suitable post near the front. Use the long straps to reach either all around/ under the chair or to a post further back

 

Short Straps (Additional Extra) - Use to attach your Trabasack to a post or buggy
Dimensions
The Trabasack Curve is great for adults and children, use it indoors or outdoors so you can bag a table anywhere.